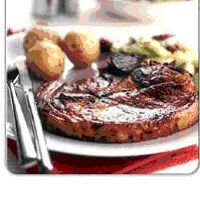 Ingredients
4 pork loin chops, fat trimmed
⅓ cup pure maple syrup
1½ tbsp Dijon mustard
1 tbsp vegetable oil
Freshly cracked pepper
1 red delicious apple
2 stalks celery, thinly sliced
¼ cup pecan nuts
Dressing
1½ tbsp olive oil
1 tbsp maple syrup
2 tsp lemon juice
2 tsp Dijon mustard
Salt and cracked pepper, to taste
Method

Combine maple syrup, mustard, oil and pepper in a large flat container. Add chops and coat each side with marinade. Cover and allow to marinate in fridge for a minimum 1 hr or overnight, turning at least once during this time.
Prior to cooking the pork make the salad. Quarter and seed apple and slice. Combine apple in a bowl with celery and pecan nuts. Combine dressing ingredients in a covered container and gently shake. Pour dressing over salad and gently toss.
Cook pork chops on a lightly oiled barbecue or under grill on medium high heat for 2–3 mins each side (depending on thickness). Allow to rest a few mins before serving with salad and steamed new potatoes.